A shelf edge LCD display is designed to support flexible content strategies, such as displaying the price of the items to combining displays horizontally or vertically for creating a virtual screen.
In the retail industry, particularly in hypermarkets and supermarkets or chemists, digital technology serves as a great differentiating factor. In fact, implementing it will help in increasing the profit margin. Shelf-edge LCD display can give your retail business a new edge over your competitors.
Sure, you can use static paper labels for the shelf products, but it only informs your customers about the good's price. Electronic shelf-edge LCD display serves many purposes, including information, pricing, coupons, video ads, promotion, and branding for various product lines. By integrating this into your retail business, you can improve customer experience, enhance labour efficiency, ease operation, and improve sales and profit.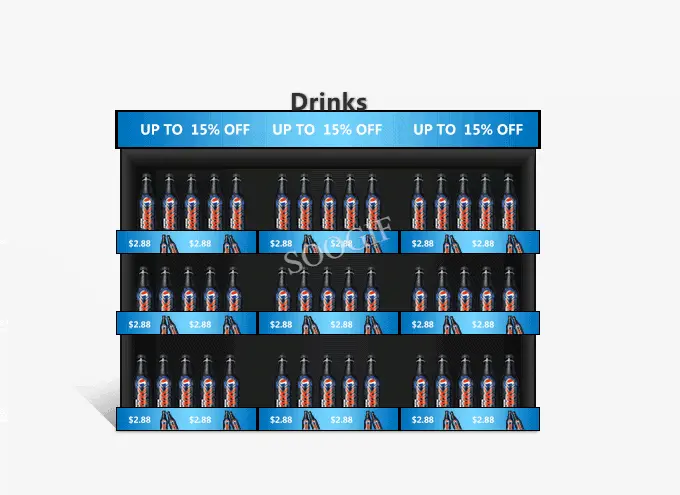 Why Use Shelf Edge LCD Display for Your Retail Business?
Even though the greatest advantage of these digital displays is the ability to engage in real-time dynamic pricing in-store, it has many other advantages.
1. Influences Purchasing Decision
Shelf Edge Display technology will help in engaging your customers in front of the shelf. Visuals can make all the difference. If you have little retail space to work with, a shelf edge LCD display is perfect for getting your message across.
Big advertising boards that hang from the ceiling are great. But you can place only a limited number of them in your store before it becomes an eye-sore or hindrance to your customers.
But the shelf edge display serves as great advertising material. It takes little space as you can place it just beneath the product. Since they are in the prime position, they get noticed easily.
2. Offers Additional Value to the Customers
By using the digital display, you can give out some important information to your customers. For instance, if you have a separate section for gluten-free products, you can clearly state that using the shelf edge display. In fact, you can use the display to guide them to the respective section of the store.
The extra added value increases sales since your customers are informed about the products that are relevant to them. Furthermore, it improves customer satisfaction. Customers don't just want to save money but also want to save time. So, these shelf-edge displays can help in improving customer satisfaction.
3. Impacts Brand Awareness
With a shelf edge display, you can draw the customer's attention to a specific product that you have to offer. Ultimately, your customers are drawn to the brand's familiarity by the design on the digital display. Yes, the product packaging plays a significant role in the brand presence, but the digital display can go a long way in grabbing the attention of your customers.
4. Reduces Operational Cost
Rather than spending plenty of resources and time every week to change the paper labels, you can adjust the pricing through the control system. By using this, you can announce special promotional offers or update the pricing across multiple stores. Moreover, they are available at an affordable price in comparison to the other advertising forms.
Features of Shelf Edge LCD Display
These digital displays come with many attractive features. Let's take a quick look at them.
1). Bluetooth and Wi-Fi connection
2). Unique sizes that can be customized as per your requirements
3). Supports CMS that helps with remote upload
4). Multi-device management through Cloud
5). Slim design ensures easy installation
Shelf edge LCD display can take your business to the next level. They are no longer just a simple display for prices. The digital displays can improve customer experience and increase your sales. So, install these in your retail stores to transform your business.